Tips for First Timers at the AMTA 2018 National Convention
"People were so friendly and helpful for a first timer! I was a first timer for the national convention (have done many state ones) … I felt so welcomed & recognized! It was great to be among my peers!"
– AMTA 2017 National Convention Attendee
---
Whether it's your first AMTA Convention, or your first conference EVER, here are some tips to prep you for the AMTA 2018 National Convention!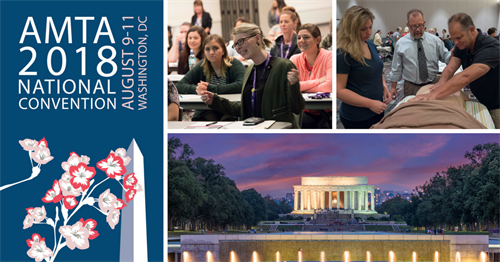 Tips for Registering for AMTA National Convention
What is this again?
August 9-11 in Washington, DC
You can earn 18+ massage therapy continuing education credits at Convention (also called CEs or CEUs). This means if you attend Thursday, August 9 through Saturday, August 11, and choose courses with the maximum number of hours you will earn 18 CE Credits.
What is the "+" in "18+"? 
There are two pre-convention workshops  offered on Wednesday, August 8, that are worth 8 credit hours each. Registration for these is an additional fee.
Speaking of fees, how much does it cost?
AMTA members save on the cost of registration! You'll pay just $395 for the full convention when you register before June 21. That price increases on June 22 so register early!
If you're not a member the full convention will cost you $530, OR you can pay just a little more to register and join AMTA for $574—a savings of $191 off the cost of both combined! Learn more. 
You also have options for single-day and exhibit hall passes. You can review those details on our registration page. 
Making Your Registration Selections
Education sessions do fill up quickly, especially the hands-on courses. Between this and the early bird deadline of June 22 it's important to register early.
As you're choosing courses be sure to check the course descriptions for any materials required. The description will indicate whether you need a table or mat, so plan to bring your own or share if you select those courses.
Since it will be your first AMTA National Convention, you get complimentary entry to the First Timers Luncheon on Thursday, August 9! Even though it's free, you must add this to your registration so we know how many people to expect!
In addition to the CE sessions, your registration will include full access to the Exhibit Hall. Mark your calendar for Thursday night's Opening Night Reception on August 9 (more free food!).
You'll also get one ticket to the Dinner Dance which takes place on Saturday, August 11. You'll have to make an entree selection when you register. Bringing a friend or partner? Additional tickets are available for purchase.
View all Convention Education Sessions
---
"Awesome convention, made awesome connections and met many many new friendly people."
"It was an amazing first time experience. I left feeling inspired and impressed at the level of professionality and sense of community."
– 2017 Convention Attendees
---
OK, I've registered! Now what?
Book your room in the host hotel to secure your spot in the ultimate hub of convention activity! You can learn how to book and more tips about travel to and around DC on the Hotel & Travel page. 

Check out the other special events and social opportunities that will take place during the week of convention. 
View Convention Hotel & Travel
---
On-Site Tips
Here are a few things you may want to pack:
Notebook and pens to take notes
Reusable water bottle to stay hydrated and some snacks to keep in your bag
Attire is business casual. Plan to dress in layers, including a sweater/light jacket, since meeting room temperatures can vary.
Business cards! If you don't have any yet, use your Office Depot / OfficeMax member discount or Vistaprint discount to get some printed.
Badges must be worn at all times on-site including for the Opening Session with Bert Jacobs on Thursday morning. This means you'll need to plan to pick-up your registration packet on Wednesday or early Thursday.
When you pick up your registration packet and badge you'll also get a complimentary tote bag to carry your stuff – like free samples from the Exhibit Hall!
Once you get your registration packet verify that your course tickets are all included and accurate. If not, it's OK! Just stop by the registration desk to get it straightened out.
Download the app when it's available closer to time (registered attendees will receive an email when it's available). 
Ready to attend?
Don't miss the largest conference for massage therapists!
Register now for the AMTA 2018 National Convention
Still have some questions?
If you're on the fence or have more questions that we don't address here, feel free to reach out on our Facebook event page, call us at 1-877-905-2700 or email convention@amtamassage.org.